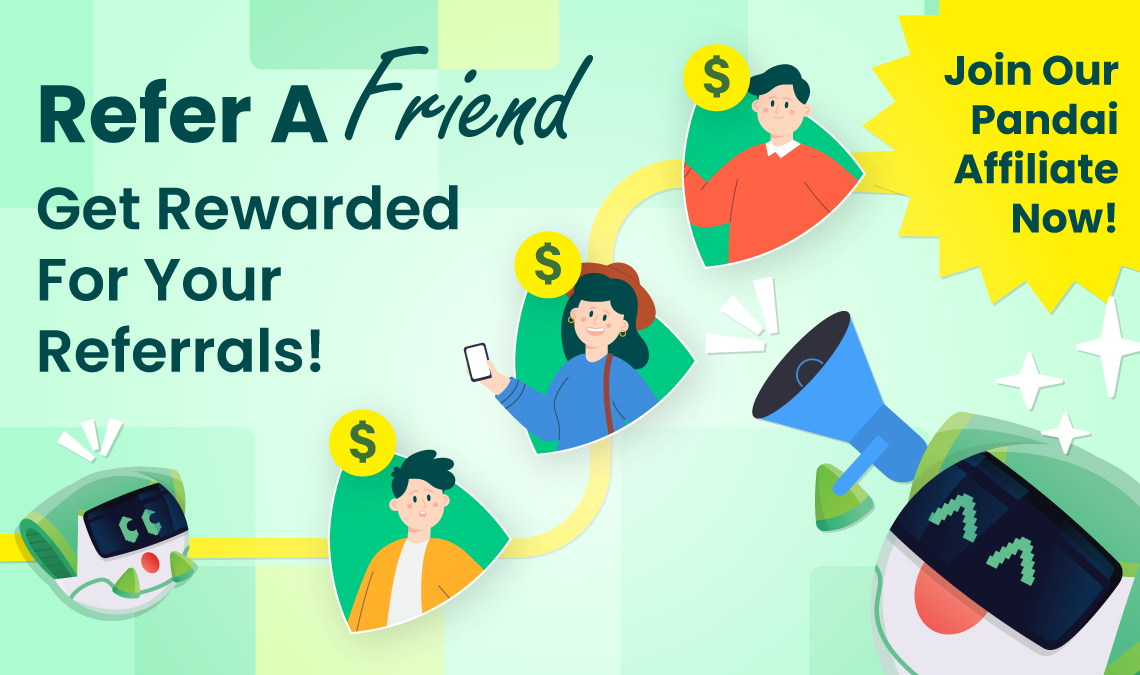 Side income and access to quality education—two things you never thought could go hand in hand! Pandai is introducing an affiliate program, opening opportunities for the public, especially teachers, parents, and Young Pandai, to generate income together.
What is the Pandai Affiliate Program?
The Pandai Affiliate Program is a method of generating income online by promoting Pandai to friends or acquaintances who has never used Pandai before. This program benefits everyone who uses the Pandai app, including teachers, parents, and students.
Why Choose the Pandai Affiliate Program?
This program offers a unique opportunity to earn rewards while making a positive impact on education. For every successful referral who subscribes to the Pandai app, you'll receive a cash commission of 5% from their first subscription fee. Students will also receive commissions in the form of coins deposited into their Pandai account, which can be redeemed for various rewards and e-vouchers!
Objectives of the Pandai Affiliate Program
Pandai's mission is to provide high-quality and easily accessible educational resources for school students while enhancing their academic achievements. With programs like this, Pandai not only offers opportunities for extra income but also contributes to building an excellent generation for a better future.
How to become a Pandai AffiliateHere's a step-by-step guide on how to get started:
Register a Pandai Account: If you haven't already, head over to the Pandai website and create an account. This account will serve as your starting point for accessing the Affiliate Program.
Access the Affiliate Program: Once you have an account, log in and navigate to your profile settings. Look for the "Affiliates Program" option and click on it to enter the dedicated program interface.
Obtain Your Affiliate Link: Within the Affiliate Program section, you'll find a unique affiliate link assigned to you. This link is the key to tracking your referrals and ensuring you receive your commissions. Copy and save this link in a secure location.
Share Your Affiliate Link: Now comes the exciting part! Start spreading the word about Pandai by sharing your affiliate link with your friends, family, colleagues, and anyone else who may be interested in accessing top-notch educational resources. Utilize various channels such as social media, email, or direct messaging to reach a wide audience.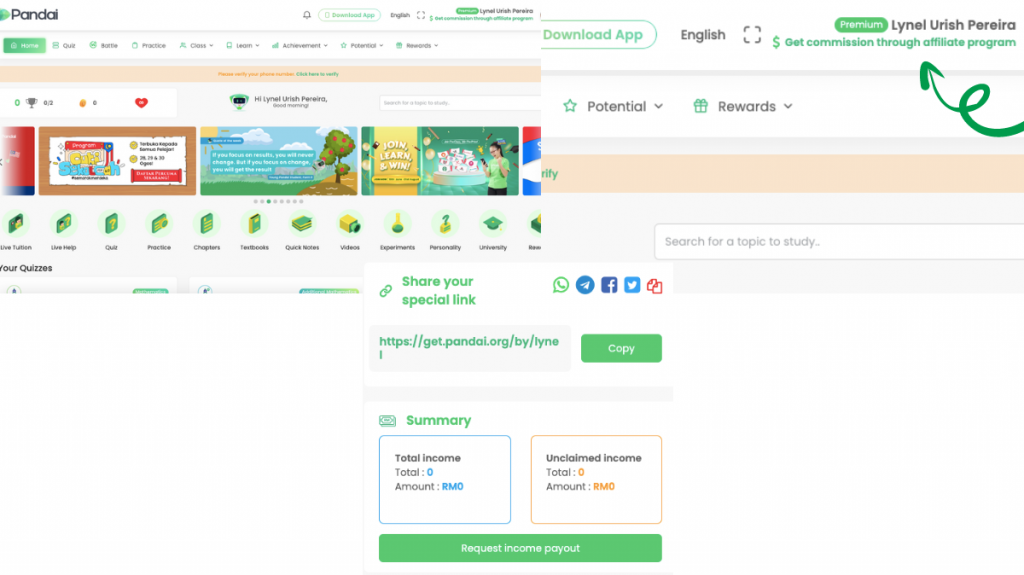 It's that simple! So what are you waiting for? Seize the opportunity to contribute to education development while earning side income! Join the Pandai Affiliate Program now! So, what are you waiting for? Come and grab the chance to contribute to education development while earning side income! Join the Pandai Affiliate Program now!
Log in or Sign Up at www.pandai.org
Download Pandai App now via Google Play or App Store.
Follow us on our Social Media Now for more updates!
Facebook: @pandaiofficial
Instagram:@pandaiofficial
Twitter: @pandaiofficial
TikTok: @pandaiofficial
Blog: blog.pandai.org
#AchieveTogether